High Performance Roof coating System at Branchburg Twp. Building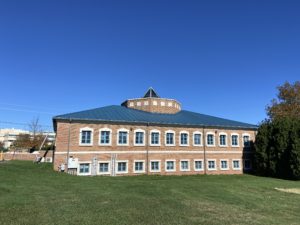 In October of 2022 DDS completed a high-performance roof coating system on the Branchburg Township Municipal Building's standing seam metal roof. After interviewing various contractors, the Township chose DDS to do their roof based on our experience and knowledge of metal roof coatings. We inspected this roof thoroughly with the client and also inspected ceilings in the building to see where water penetrated. This roof is 33 years old and had active leaks due to wear and aging.
Our Process
First, we selected the proper roof coating for the metal roofing material which was United Asphalt's AP 3300 product. This product adheres beautifully, is completely waterproof on pitched roofs and can be tinted to make vibrant colors. The client selected a "Military Blue" color to match their existing roof color.
Second, we thoroughly cleaned the roof. Then we did various maintenance of areas that cracked, rusted or opened up. Once the roof was tight and fully repaired, we applied two finish coatings of the AP 3300 product.
The roof came out very nice. It's beautiful and now watertight. Plus, we were able to give the client a 10-year warranty on this roof.
Check out these photos of the job!