Roofing Project – Salvation Army, Wilmington, DE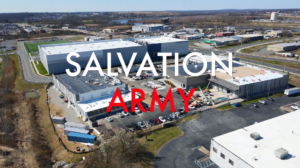 DDS recently installed a new 1 ply EPDM roofing system at the Salvation Army of Wilmington, Delaware.
Motivated by the love of God, as a leader in Christian faith-based human services, The Salvation Army is committed to serve the whole person, body, soul and spirit, with integrity and respect, using creative solutions to positively transform lives. Its objects are 'the advancement of the Christian religion… of education, the relief of poverty, and other charitable objects beneficial to society or the community of mankind as a whole.'
Today, through over 3,500 service centers in the eastern region of the United States, The Army's spiritual and social services assist millions of homeless, working poor, children, youth, addicted, elderly, and abused families and individuals.