CFI Knoll – Pennsauken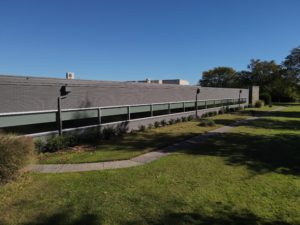 CFI Knoll
7001 N. Park Drive, Pennsauken NJ
Nature of Job:
Powerwashing and painting
Details Features of Job:
DDS recently completed exterior painting at the CFI Knolls new office and warehouse building in Pennsuaken NJ. The entire building was a very light brick color that had never been painted. The ownership at CFI wanted the current brick and fascia color replaced with a dark charcoal grey. This would give a modern clean look to the exterior of the building.
The first step was to power wash all surfaces being painted. We then applied two coats of high grade satin exterior paint. A splash of outrageous orange was added to several of the exterior doors. Thanks to Karl and John for an excellent job from start to finish.
Quote from Customer:
"The outside really looks good. Big change"
Mike Bauck
CFI Management
Photos of CFI Knoll