DDS Paints Clearview High School Gymnasium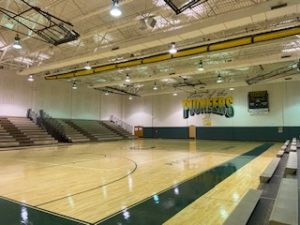 DDS recently painted the Clearview High School gym in Mullica Hill, New Jersey. Clearview High School is hopeful to be starting up school in September. With that comes summer months of building maintenance. The historic "Hank Gym" was in need of a fresh paint job. DDS was fortunate to be awarded the painting project at the Clearview High School Gymnasium. Our top notch team of Karl and John did an outstanding job with the prep work, scissor lift operation, Painting of the walls and cleanup.
We applied a pre-catalyzed epoxy in a bright creamy color to the walls that goes well with the Pioneer green decals strategically placed throughout the gymnasium. The job was completed quickly and without any issues. The Administration was delighted with the job and could not say enough about our experienced paint mechanics.
Quotes from the Customer:
"You guys did a great job"
Steve – Director of Facilities

"We are very pleased how the gymnasium painting turned out"
Mike – Athletic Director

Photos of Clearview High School Gymnasium:
If you would like a quote for the painting of your facility, we would be happy to schedule an appointment to assess your needs.
REQUEST AN ESTIMATE TODAY!