Gloucester County Flat Roof Repair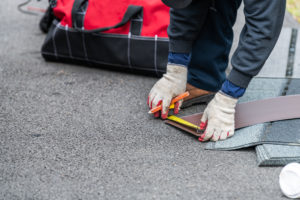 For quality Gloucester County flat roof repair, call on us today. The team at DDS provides diversified services including roofing to commercial and residential property owners. Our customers include residents, large and small businesses, real estate and property management companies, general contractors, non-profit organizations, education and medical facilities, and government entities. These clients come to us for their flat roof repair inquiries.
We want to provide the best flat roof repair services possible. For 40 years, we've been trusted by the Gloucester County community, and we're excited to show you why. Since 1977, we have been the dependable name for major companies and institutions such as Fulton Bank, Autumn Ridge Apartments, Holiday Inn, Cooper Hospital, Chick-fil-A, and Deptford schools to name a few.
You're looking for a skilled team to take on your roofing challenges when damages arise. You have a problem with your roof, and you need it repaired. Without immediate action, a damaged roof could lead to leaks and open your building to the outside elements. When you reach out to us, we want to know what happened to cause the damage. We've dealt with all kinds of problems over the past four decades; we're confident that we have faced your situation before and have a proven plan that will work. Once we know what we are up against, we can do what we do best. Finding good roofing services isn't always easy. What's the DDS difference? We're Dedicated to Delivering Superior outcomes.
Let us check out your property and explain in detail the impact of the damage. Once we know the extent of the repairs needed, we can develop a strategy to fix your building. It won't be long before our technicians can put this plan in action.
We're certified and bonded by the State of New Jersey in nine categories of roofing, painting, and general construction services. That means, at DDS Services, we do it right, on time and on budget.
For quality Gloucester County flat roof repair, call us today for a free estimate at (856) 228-1700!