New Roof for Cumberland County Christian Church in Vineland, NJ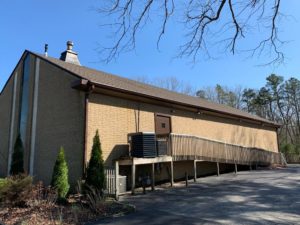 DDS recently completed a new roof for Cumberland County Christian Church in Vineland, New Jersey. DDS met with the Cumberland County Christian Church church staff to review where the active leaks and damaged fascia wood were. Then we reviewed various color options for the shingles, fascia metal, gutters and downspouts. The church decided on GAF Timberline shingles in "Barkwood" which matched the "Royal Brown" gutters and downspouts for a charming finish. We installed GAF "Liberty" rolled roofing for the low sloped area. To handle the water flow, due to the size and pitch of the roof, we suggested installing larger 6" gutters. When the job was completed, we met with Pastor Paul to review the job. He was delighted with our workmanship, service, the colors, and the church's beautiful new roof.
Features of New Church Roof Project
Removed existing roof materials down to wood deck.
Replaced damaged plywood.
Supply and installed GAF shingles according to manufacturer's specifications.
Supply and installed new commercial strength gutters and downspouts.
Quote from Customer:
"The church is thrilled with our new roof. It looks so beautiful! And we couldn't believe how fast you got it all done."
– Pastor Paul Ponchot: Cumberland County Christian Church
Photos of Cumberland County Christian Church Project