Gloucester County Commercial Roofers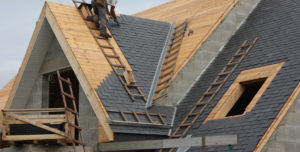 Why should you go with DDS Services as your Gloucester County commercial roofers? DDS is the the most diversified team, with services that include roofing, painting, and carpentry. Simply put, at DDS we're Dedicated to Delivering Superior outcomes. What started off as a small painting company on 1977, has grown to a staff of close to 40, a company office in Sewell, NJ, and a warehouse. Our customers include residents, large and small businesses throughout Southern New Jersey, Southeastern Pennsylvania and Delaware. For commercial properties, we lend our services to:
Flat Roofing
Flat roofs present their own set of issues from time to time. All the drainage and durability requirements are taken into account and put against  cost-effectiveness before we recommend the best materials from EPDM rubber, TPO, SBS modified and PVC roofing systems.
Shingles Roofing
We've had the most cost-effective, durable, and decorative asphalt shingles in office buildings and industry facilities for 40 years!
High Performance Coating Systems
Using urethane, silicone, and acrylic coating systems, our team is versatile at applying and restoring commercial roofs. We use these low maintenance, time-tested, durable flat or low-slope roofing options to provide building owners a long-term savings solution.
Did you know roof coating systems may be the most cost-effective, energy-efficient, and durable option for your commercial roofing project? Our experts will introduce you  to the best coating options- trust us, this will only extend the life of your roof and help you save on energy.
South Jersey Roof Maintenance and Roof Repairs
Will you be installing or maintaining the condition of your building's roof? No matter: Our craftsmen will assess, consult, and determine the best options. From there they can and complete all necessary maintenance and/or repairs to prevent water penetration and keep the leaks from rearing their ugly heads.
Metal Roof Restoration
Our trusted experts are the perfect go-to for determining the right material and application to get the most out of your roof's service life. When Working with DDS, we adhere to the drainage and durability requirements and keep costs down while still using the best materials.
Your Gloucester County commercial roofers, DDS is Dedicated to Delivering Superior outcomes.