DDS Paints Gateway Regional High School Gymnasium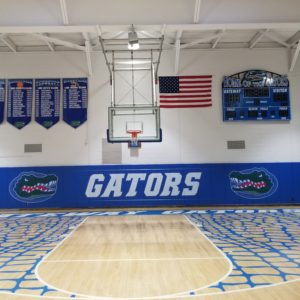 In the summer of 2019, DDS Painting completed the painting of the Gateway Regional High School Gymnasium. Gateway Regional High School is located at 775 Tanyard Road in Deptford Township, New Jersey and serves students from a number or regional sending districts.
The project was under strict time constraints with the school year fast approaching and multiple contractors on schedule to install the finishing touches to the gymnasium's face lift.
With all finished surfaces protected, DDS painting professionals sprayed the ceiling decking white and applied a bright semi-gloss finish to all the walls. In addition, all the doors and frames were accented with Gateway blue.
The job went smoothly without a hitch thanks to Karl and John. The Gateway Regional High School facility manager, Tom was happy with the results and was able to complete the project for the school year opening.
Photos of Gateway Regional High School Gymnasium