DDS Paints Hallways at Aura Elementary School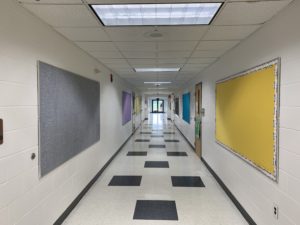 Earlier this year, DDS was tasked with painting the hallways at Aura Elementary School in Glassboro, New Jersey. This Elementary School is part of the Elk township School District. The district serves students ages PK-6th Grades from a number of locations. Time was of the essence on this job as the September school opening was fast approaching. All finished surfaces were protected and a quality fresh application of paint applied. As always, a specific supervisor and painting team was selected for the job. They started and stayed throughout the week until the job was completed. Thanks to Matt and his team for their excellent work at Aura Elementary School.
Does your school need painted? Ask us for a bid today!
Photos of Hallways at at Aura Elementary School