DDS Paints Kopke Fruit Warehouse and Offices in Vineland, NJ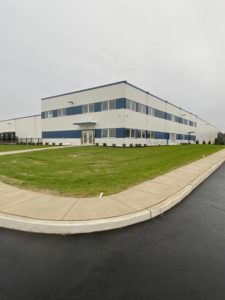 DDS Painting recently completed painting at the new Kopke Fruit warehouse and offices at 1775 West Garden Road in Vineland New Jersey. For over 70 years, Kopke Fruit has imported the finest fruits from all over the world for distribution throughout North America. DRK Associates is building Kopke Fruit another distribution center, this one located in Vineland NJ. DDS was fortunate enough to partner with DRK to complete the painting portion of the warehouse and office space.
The task was to brighten up the warehouse by painting all the ceiling decking and web joist white and painting the steel columns safety yellow. Among the other painting projects completed are blue stripes added to the outside office building, a large office space fit-up, safety yellow added to warehouse and Painting of stair tower block walls and railings. The crew withstood the heat and humidity and navigated multiple scissor lifts around the approximately 30,000 square foot facility to complete the project on time and on budget. Thanks to Karl and John for another great job. Contact DDS for all your commercial painting needs. We offer free estimates and timelines.
Photos of Kopke Fruit Warehouse in Vineland, NJ