DDS Paints Fairfield Presbyterian Church in Fairton, NJ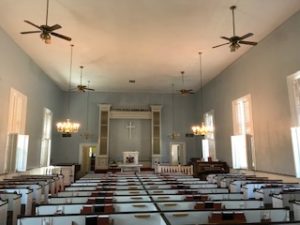 Last week DDS painting completed an interior painting project of a church sanctuary at Fairfield Presbyterian Church in Fairton NJ, a small town outside of Bridgeton NJ. One of the oldest Christian congregations in the country started in 1680. The Leadership at Fairfield Presbyterian needed the project completed in one week. It consisted of painting high ceilings and walls in selected white and blue colors inside the sanctuary . There were cracks above several windows that needed repairs prior to painting. Protecting the sanctuary furniture, pews and carpeting was of upmost importance. The project was completed ahead of schedule with terrific results. The job Foreman Frank Ruggieri did a terrific job leading the crew.
Here's a quote from Butch Myers, Deacon at Fairfield Presbyterian Church:
"As usual, first class workmanship on the paint project and the crew finished ahead of schedule. We were very pleased and will call again when more work is needed."
Photos of Church Painting Job
If your church is in need of painting, Please
REQUEST AN ESTIMATE
from our painting division.