DDS Paints Monster Mini Golf in Cherry Hill, NJ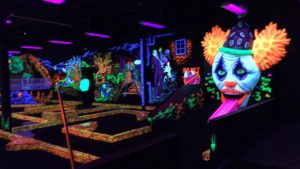 DDS recently painted Monster Mini Golf in Cherry Hill, NJ. Monster Mini golf is located at 2040 Springdale Road, Cherry Hill, NJ 08003. The new indoor family entertainment facility opened on June 3rd 2019 after being completely outfitted by DeSimone Construction. DDS was called in to complete the job of painting the entire facility. The mini golf fun center was fit into an existing building in Springdale Road in Cherry HIll, NJ. The entire interior main area was painted black including the deck ceiling, walls and trim.
Murals, lighting and all the golfing and games were added after the painting was completed to created of fun atmosphere for all ages. This Halloween themed indoor mini-golf facility uses back lights and luminescent accent paint to create a fun atmosphere.
Photos of Monster Mini Golf in Cherry Hill, NJ