DDS Paints Gerresheimer Glass in Vineland NJ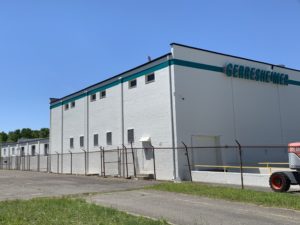 This week DDS completed an exterior commercial painting project at the Gerresheimer Glass facility in Vineland NJ. The DDS Painting team did thorough preparation for painting with scraping, sanding and power washing. Then two coats of a new color scheme were applied to the body and trim of the building. An accent stripe was added of the Gerreshimer blue and safety yellow applied to the metal railings. The project went well without disruption to employees and the production facility. Thanks to Fred at Gerreshiemer Glass for his assistance throughout the project. Another happy customer in Vineland NJ.
About Gerresheimer Glass in Vineland, NJ
Gerresheimer is a leading global partner for the pharma and healthcare industries. Our special glass and plastic products contribute to health and well-being. We have worldwide operations and our 10,000 employees manufacture our products in the local markets, close to our customers.
Photos of Gerresheimer Glass in Vineland, NJ