DDS Paints New Offices at Woodbury Nissan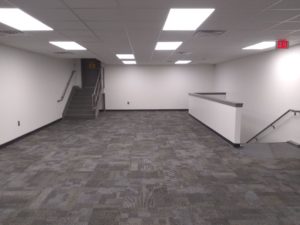 DDS recently finished painting new offices at Woodbury Nissan in Woodbury, NJ. Woodbury Nissan converted an unfinished open storage area into finished offices. DDS Painting was fortunately contracted to repair wall imperfections and paint walls and trim in this area.
A very light color was applied over a previously painted dark walls and a dark color was painted over previously painted light trim, railings and steps.
We were the first trade in prior to all the finish acoustical ceilings and carpet installation. Then we were the last trade in for touchups prior to furniture installation. It was a successful experience and we look forward to doing more work forBob D'Angelo and the awesome folks down at Woodbury Nissan.
"DDS was right on schedule and responsive to all our needs. The job was excellent and it was a pleasure working with them"
– Bob D'Angelo
Photos of New Offices at Woodbury Nissan in Woodbury, NJ