New Roof and Gutter System in Sewell, NJ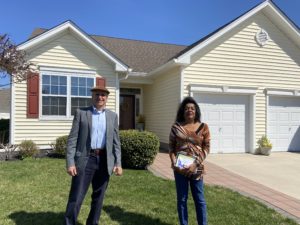 DDS Roofing recently completed a new roof and new gutter system in Sewell at the home of Ivette Acchitelli at 4 Stiles court. Exterior trim painting was also done after the completion of the roof and gutters. The existing 18-year-old roof was removed down to the wood sheathing, which was in good condition. New, Upgraded GAF Timberline shingle system, in the color of "Barkwood" was installed along with new flashings. The new upgraded gutter system allows for an increase in water flow away from the house.
Details of New Roof an Gutter System in Sewell, NJ
– Removal of old shingle roofing
– Installation of GAF Timberline 50 Year Dimensional Shingles
– Installation of new flashings and new ice shield
– Removal of existing 5″ gutter and 2″X3″ downspout
– Installation of 6″ seamless gutter and 3″X4″ downspout
– Painting of the exterior front entry trim and entry door
Mrs. Acchitelli is delighted with the final results of her new roof, new gutter system and exterior painting.
Photos of New Roof an Gutter System in Sewell, NJ