DDS Paints Cabinets at Calvary Hill Church Apartment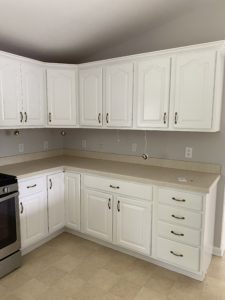 DDS recently painted some cabinets at Calvary Hill Church on 535 Mullica Hill Road in Glassboro, New Jersey. The cabinets were in a small apartment on the campus of the church that is used to house missionaries. Painting cabinets can be a disaster if not done correctly. When done properly, it can enhance and update any kitchen for many years.
Calvary Hill church was ready to update the appearance of the huge kitchen in its apartment on its Glassboro campus. DDS was asked to get the job done quickly and correctly. After removing the hardware, the two man team of Karl and Dean sanded and cleaned all surfaces. Then a coat of bonding primer was applied. It is the most important phase of the job to assure adhesion to the cabinet surfaces that are previously finished with a polyurethane.
Multiple coats of a very hard top grade finish paint was necessary. The better the material the less distinguishable are the brush and roller marks. Another stellar job completed on time.
"The cabinets look amazing"
– Associate Pastor Joe
Before and After Painting Cabinets at Calvary Hill Church Apartment