DDS Installs New Flooring at Aura Elementary School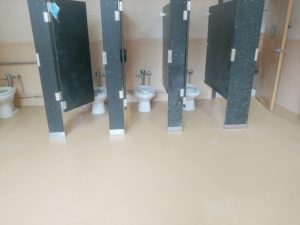 DDS recently installed new flooring at Aura Elementary School. The tile floor in the boys bathroom at Aura school was buckled and coming apart. (see pictures below). After years many years the tile was pulling apart from the subfloor. A DDS prep crew removed the partitions and toilets and removed all the tile in the entire floor. The next step was to grind and sand the subfloor. Some concrete patchwork was also necessary.
The final stage was the coating process. This was done in three stages on three separate days. A two-part bonding primer was applied to help bind the old and new concrete and prime the surface for its finish coats. A first coat of a two-part epoxy floor coating in the selected color and the final coat with a aggregate added on top to make the finish skid proof.
Thanks to Matt for the hard work and many return trips.
Photos of NEW flooring at Aura Elementary
Photos of OLD flooring at Aura Elementary
Aura Elementary School is located in Glassboro, New Jersey. This Elementary School is part of the
Elk township School District
. The district serves students ages PK-6th Grades from a number of locations.