New Shingle Roof for Mr & Mrs Kent.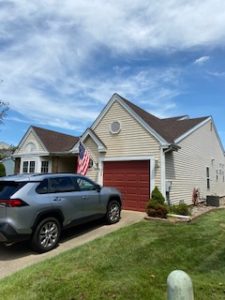 Mr. and Mrs. Kent were very excited when the day came to have their shingle roof replaced. We protected the house and vegetation from falling debris and removed all existing materials down to the wood sheathing. We inspected the sheathing and only had to replace one sheet of plywood. After we put down all the new flashing details, the GAF timberline dimensional shingles were installed. The Kents selected the color "Hickory" which is a very rich brown color.
Mrs. Kent said, "The roof looks absolutely wonderful" and was surprised we had it done and cleaned up in a day.
Photos of Shingle Roof Replacement