DDS Paints Cedar Shake Vinyl Siding in Mullica Hill, NJ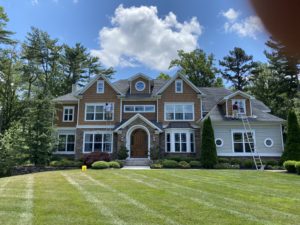 DDS Painting recently painted the cedar shake style vinyl siding in Mullica Hill, New Jersey. Yes you can paint vinyl siding! The cedar style shakes on this beautiful Mullica Hill home were faded far from their original color. After a thorough washing with detergent and water, the tedious process of painting the vinyl style shakes began.
First a bonding primer was applied to assure adhesion. The finish coat is a 100% acrylic vinyl friendly paint in a perfectly selected cedar color to accentuate the style shake. From the street it now looks exactly like natural cedar.
To complete the job, two coats of white paint was applied to the fypon trim material above the windows and the trim around the circle windows that had weathered over the years. The Professional applicators at DDS Services did a neat and clean job. Thanks to Juan for leading the job from start to finish.
"We love the color selection and the DDS team did a great job from start to finish"
Anthony – Homowner
Photos of vinyl siding in Mullica Hill, NJ
Do you think the appearance of your property could be improved by paining your vinyl siding?
Contact DDS today
for a free quote!