DDS Completes Painting of a Home in Vineland New Jersey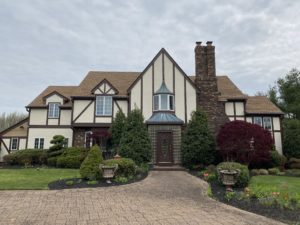 DDS recently completed the painting of a home in Vineland, New Jersey. We recently painted this huge Tudor designed stucco home for Phil and Lauri. The goal was to refresh the stucco with its current color and repaint the mauve colored trim with a traditional Tudor brown color.
The job began with a thorough powerwashing and some minor carpentry and trim repair. Then two coats of elastomeric coating were applied on the stucco on all four sides of the home. This elastomeric waterproof coating is designed for masonry surfaces. It bridges cracks and masks surfaces imperfection while providing ultimate durability.
The color change occurred with two coats of brown acrylic latex being applied to the doors and trim.
"The painting looks awesome, the stucco looks brand new and the guys were great to work with"

– Phil and Lauri, Homeowners
DDS is currently providing residential roofing, painting and carpentry services while practicing stringent social distancing. We are thankful to Phil and Lauri for allowing us to paint the exterior of their home in Vineland New Jersey.
Photos of the Home in Vineland New Jersey
Contact DDS
for a free estimate on your next painting job!