A New Roof for Fries Mill Pavilion in Turnersville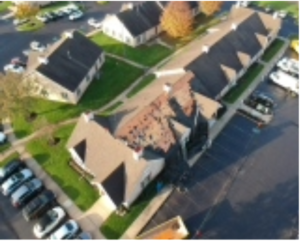 The team at DDS is proud to announce they have built a new roof for Fries Mill Pavilion in Turnersville. Thanks to the brothers Dan, Dave and Rob, the South Jersey business center can confidently say their 2020 is off to a rejuvenated start.
Why Fries Mill Pavilion Needed A New Roof
Before DDS was brought on to work on their roofing, the building had plenty of wear and tear that needed to be addressed. As one could expect, after 25 years of serving as health offices, the laundry list of damages was beginning to build. The roof had shingles missing and even leaks in certain areas. It was time for a restoration.
How We Fixed It
DDS was able to provide a full facelift to the Fries Mill Pavilion, starting with a complete strip of the old asphalt roofing. From there, the sheathing was gutted and replaced. To help further prevent leaks, rubber underlayment was put in to keep water out. The team even went as far as to install new GAF architectural shingles.
GAF has been a major staple and support for technicians since the 19th century. It is the first company to offer a lifetime warranty on an entire roof system. DDS used their high quality shingles to protect the new roof for Fries Mill Pavilion in Turnersville.
DDS prides itself on Dedication to Delivering Superior outcomes. Whether it's roofing, painting, or carpentry projects, DDS has been the go to for those in the Turnersville area looking to put a new roof on. With this kind of success at the Fries Mill Pavilion, those who need the service can be assured a job well done.
From schools to offices, DDS always strives to provide the highest quality of restoration. With all of the hiccups that could go wrong, for the next 30 years, the tenants at Fries Mill Pavilion can be assured they're roofing is secured.
Fries Mill Pavilion Roof Photos