DDS Services Supports Local Food Drive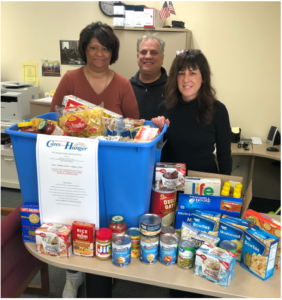 DDS recently supported the 14th Annual "Gloucester County Cares about Hunger" Food Drive! This year, because of your help, 17,287 pounds of food has been donated to the Food Bank of South Jersey. There were also funds collected from individuals, as well as companies and this was converted to poundage which is included in the total.
The amount of food, and the money that was collected, will provide 11,525 meals that will feed food-insecure households in this community! Since the 2006 start of the food drive, 197,238 pounds of
food has been collected through the generosity of our community, which we are very grateful. There was a wide variety among the 54 participating organizations – major, mid and small companies, non-profits, banks, county government departments, 55+ and senior living, stores, schools, township offices, newspaper, libraries. Also, individuals stopped by to bring a bag or two of food to add to the
collection.
Also collected was over 300 pounds of pet food, which will be distributed by a local food pantry to assist fixed-income individuals and families in feeding their pets and stretching their limited funds further. Pets are an important part of our families and we are glad to help individuals and families keep their pets.