"Treating Employees Like Family, Every Day of the Year" DDS Services Celebrates 40th Anniversary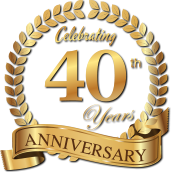 SEWELL, N.J. (December 2017)—Since 1977, DDS Services has been helping clients both large and small with roofing, painting, carpentry, siding and general commercial contracting needs in and around the tri-state region. While many company leaders share their gratitude and appreciation with employees at Christmas, the 35 people employed by DDS enjoy the spirit of the season every day—while at work.
Marking the company's 40th year in business, the three Sottile brothers who own DDS Services attribute the company's long-term success to its people. Working in a family business brings its own challenges, but long-time employees like Nancy Bastow, who started working for DDS Services in 1988, says she has watched "this company struggle, grow, survive, and thrive. The three brothers who own this business work hard and have always treated me more like a family member than just an employee. I am grateful to be part of the DDS family!" When she was ill last year, she noted the brothers cared more for her health than watching her time card.
Another loyal staffer, Mike Schussler, is in his 80s. After working in construction for more than 50 years, Mike says he is "grateful to have spent the last 18 at DDS. It's been a blessing and a privilege."
It takes gumption, sacrifice and skill to start and continue to operate a successful small business. The DDS staff have always been impressed by the leaders of the company. "What more can you ask for than three brothers with a vision to succeed, a diligent office staff, and a group of craftsmen who take pride in their work?" shares painter Frank Ruggieri, who has been with DDS for 18 years.
A unique ability to adapt, change and grow has helped the company achieve an enviable client roster and reach its 40th year. When Dave Sottile started his little roofing company in 1977, he had no idea it would grow and become a contracting legend. The pleasure of seeing his business grow, the pride in adding two brothers to the mix, the purchase of a building and warehouse, and the opportunity to currently employ 35 people — all of this started with hard work and family.
In the 1980s, after graduating from Rowan University, Dan joined his brother Dave in business. Dan brought a growth oriented vision that led to the company's expansion from roofing, to painting and then to general construction. A third brother, Rob, joined the company in 1988, after earning a degree in Business Administration from Campbell University. Together, the three brothers applied their business, management, and construction acumen to propel the company forward.
The Sottiles are a close-knit trio of brothers who each add a different element to this unique company known as DDS Services. While 40 years ago Dave performed work close to the company's home base of Sewell, NJ, DDS now routinely completes projects in four states: New Jersey, Pennsylvania, Delaware and Maryland. This regional growth is specifically a result of the company's successful service to major retailers, banks, restaurants, and management companies.
Shingle Roofing Supervisor Brian Bashano has spent 14 years with DDS Services and notes that "it's a family run business and they stand behind their work." Another DDS employee of 32 years, Steve Smith, affirms this sentiment. "The way that Dave, Dan, and Rob Sottile have taken care of me and my family has been second to none. I'm glad to be part of the team of employees that work here."
"It is a pleasure working for DDS," adds Judy Hagerty. "Dave, Dan and Rob Sottile are exceptional people who sincerely care about their customers and their employees. DDS is a family-owned business that treats their employees as family–that is a rarity in today's world." Employees, clients and vendors alike all salute DDS Services on achieving 40 years in business. This Christmas, it is nice to know that some employers treat staff with charity, dignity and concern every day of the year.