Car Port Roof Replacement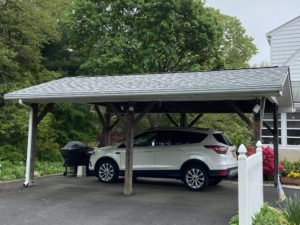 DDS Roofing recently did a car port roof replacement for Mrs. Conklin. We replaced her carport roof on April 30th and added a new gutter guard system to it on May 3rd.
She selected the "IKO Cambridge Dimensional Shingle" in the beautiful "Dual Grey" color. DDS removed the existing roof down to the wood deck and inspected the wood. DDS then put a new shingle roof on. DDS then put the "Leafree" gutter guard system on, which comes with a 20 year guarantee.
Mrs. Conklin was absolutely delighted and pleased at the finished roof on her car port. Remember, no job is too big or too small for DDS Roofing!
Photos of Car Port Roof Replacement